Alignment & Integration

Alignment & Integration
Are you a business operating in multiple locations?
Do you have time-zone, Language, and cultural challenges?
Do you experience difficulty with the consistency of information and communication?
Are you on the brink or in the midst of an organisational merger or takeover?
If the answer is yes to any of these questions, then we need to take a step back and look at the bigger picture.
I will work with you to identify the pieces of the puzzle that form your business challenges. Determining the path your organisation wishes to follow and using a gap analysis to assess the strengths and weaknesses of your different business landscapes.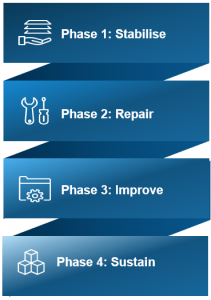 Focusing on processes, systems, and people, together we can highlight key areas for alignment, prioritise fundamental changes, streamline and align operations and most importantly communicate our plan. By doing this we ensure involvement and gain the commitment of the team.
Often as a consultant, I can be viewed as the 'outsider'.  This in itself is a unique advantage with alignment and integration programs. I arrive with no bias, making it easier to offer a pragmatic approach. I remain unaffected by internal politics, I can ask the difficult questions and challenge the status quo remaining independent and focused on the business objectives.
If you wish to discuss your business alignment further please feel free to contact me.